Do you know what is the best thing about Amber? Not only is it the best thing for long-lasting use and having an aura, but you can also use it any time of the year. Yes, it is not any season-based element to use. Whether it is the scorching heat of summer or the overwhelming cold of winter, a few drops of amber can keep you company for the whole day. Let's know some names of the amber perfumes.
Prada Amber
For your kind information, this Perfume has won the FiFi award or the Perfume of The Year award once. The specialty of this Perfume can be felt while using. The key fragrances are musk, Bergamot, orange, and sandalwood other than amber. The sweet woody earthy smell of this Perfume will accompany you with a warm motherly feeling. Add a few drops of it, and spend the day having fun. The gorgeous shape of the bottle will enhance the beauty of your desk too. Don't forget to add it to your list.
Mugler Alien
Everything will be discussed accordingly but first thing first, you'll fall in love with the body of the bottle. Isn't it great? What a fascinating shape it has! Once, best-selling angel Perfume has the ingredients in proper proportions. White amber and the woody notes will make you fall in love in an instant. The Indian jasmine at the end gives a perfect full stop. Other than Amber, your olfactory lob will inform you of the essence of jasmine, cardamom, cumin, and orange blossoms.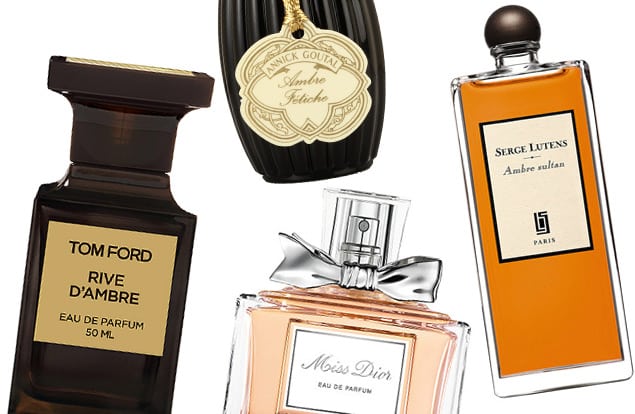 Jo Malone London
Vetiver and Golden vanilla are present to raise the level of the user. No matter who you are, what's your position in the office, how your friends treat you, after adding the essence of this fragrance, everyone will stop for a moment and will be amazed by your choice of selection and more importantly your choice about yourself. Grapefruit, vanilla, Madagascar vanilla, vetiver, and amber are there to make this dream happen into reality. Be gorgeous with a sense of nature.
Burberry Her
From the name, you'll get it, it is efficiently made for women. Women are soft from the heart and their minds are as crystal clear as it seems. To express the lively nature of that heart, there is no better option other than amber. The creators of the perfume were amazed by creating such an exclusive example of nature's love. Jasmine cord, blueberry, raspberries, violet, and dry amber from nature, make it a perfect example of love.
Van Cleef and Arpels
Do you have a soft spot for oriental notes? Then go for it. You can have the warm, sweet woody flavor of the Earth, full in it. Tonka bean, pepper, Bergamot, vanilla, and amber everything is being blended in it. The floral and fruity nature of this Perfume makes it more exclusive in an oriental way.
These are the few names that are enough to enhance your personality. We hope these 5 names will catch your attention for sure.