Men have a great affection towards Musk when it comes to selecting a perfume. They always check whether in the base note, musk is present or not. Thanks to the features of the base note, it is the finishing smell. And finishing must be a delicious one. As in the market, both original and synthetic musk is being used to make perfumes and colognes, so it becomes hard to select properly. That's why we are providing a selective list of musk perfume and colognes. The names are as follows.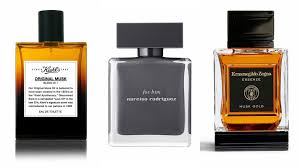 Avon Musk + Fire Eau De Toilette
As the name suggests, it is full of musk flavor with a fiery layout. Not only musk but cardamom, sandalwood, and basil are present eventually. All these three elements occupy the place of the top note, the heart note, and base note. The musk flavor is being blended in a proper ratio that it doesn't feel like too much either floral or fruity. Avon is making perfumes for long and men like their musk featured perfumes. So, give it a try, as this time too, they are promising to give you an awesome aroma.
Clubman Pinaud Citrus Musk Cologne
It's an Eau De Toilette. It has musk along with Tonka beans. The base note thus makes an awesome flavor that any man falls for. The blending of musk and tonka bean is perfectly matched with the other ingredients present at the top and heart note. The top note and heart note contains citrus flavor which gives ultimate refreshment. To adjust the spicy and citrus smell of the Cologne, musk presents a perfect complement. Thus, clubman Pinaud Citrus Musk Cologne can be used for outings purposes.
Burberry Touch Eau De Toilette
Having an Eau de Toilette which has both refreshment, flowery sweet smell, and masculine nature, is rare. However, there is a single perfume that is always men's favorite when they ask for these three conditions, that is Burberry Touch Eau de Toilette Spray for men. It has violet and Mandarin as the top note of the perfume. It gives refreshment which surely touches your soul even if you are in the scorching heat. Again, the heart note has cedarwood, nutmeg, and white pepper which gives the sweet flowery, and fruity smells. But at the end, the musk and tonka bean as a base note keeps you energetic as well as gives you the masculine aura you need. 
Jimmy Choo Man 
Jimmy Choo Man is another piece of perfume set which is regarded by many men. You'll love this as it offers citrus and floral sweetness with its top note and heart note. Cedarwood, patchouli, and vetiver are the elements present in it to give you awesome freshness. But the surprise is present at the endnote as it gives musk with moss. This endnote gives you the perfect masculine nature along with freshness.
Conclusion
The 4 names mentioned here are very selective as mentioned already. You can use this 4 spray anywhere like traveling, casual outings, attending ceremonies, official meetings, and even romantic dates.